foam filled tractor tires pricelist
As the authorized unit of the company of Arnco from the United States, Geelanter adopts high-quality raw materials and has an experienced technical team, produce high-quality foam filled tires.
There are inevitable difficulties for overhead operators to accurately make the judgment of the road surface situation, where sharp objects and stones are possibly damaging the treads of the pneumatic tires, thus causing the occurrence of safety issues. Therefore, foam-filled tires and solid tires are adopted by almost all brand manufacturers. Our tires are designed with high standards and characteristics such as, durable, outstanding shock absorptive, and smooth driving, which would provide perfect matches to your equipment.
Feature: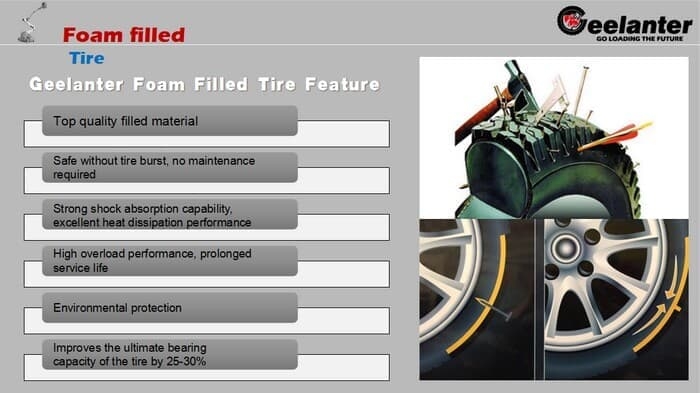 Telehandler & boom lift foam filled tires parameter:
Size

RIM





S.W

O.D

Max Load


mm

mm

kg(10km/h)

10-16.5

8.25x16.5

264

773

2135

12-16.5

9.75x16.5

307

831

2865

14-17.5

10.5x17.5

349

921

3875

14-24.5(355/55D24.5)

24.5x11.75

340

960

3520

15-19.5 (385/65D19.5)

19.5x11.75

389

1019

4565

385/65D22.5 (15-22.5)

22.5x11.75

395

5590

5590

15-625(385/50D625)

24.5x13

385

1035

5600

18-22.5(445/65D22.5)

22.5x13

460

1172

7320

18-625(445/45D625)

24.5x15

436

1042

6900

445/50D710 (18-710)

28x15

445

1192

7740

26x12-16.5

9.75x16.5

305

670

1600

26x12D380

9x15

305

670

1550

33x15.5-16.5

12x16.5

400

850

3680



Application:
JLG,Genie,Snorkel,Haulotte
,
DingLi, JCB, Syjack,
Gehl ...ect brand, boom lift & telehandler
Foam filled tires manufacture process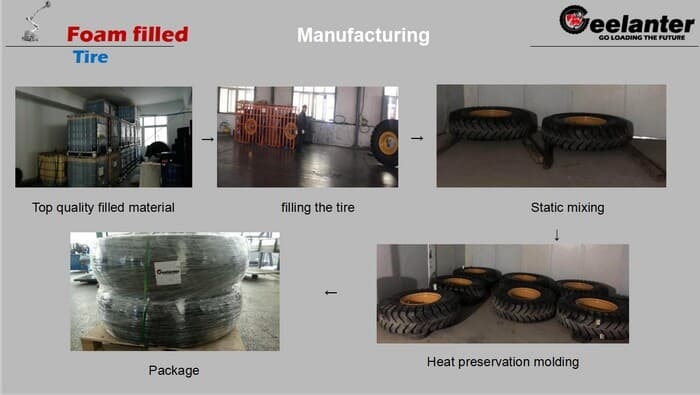 Tags: foam filled tractor tires pricelist, geelanter foam filled tractor tires, easy-maintainable foam filled tractor tires, easy-maintainable foam filled forklift tires, buy discount 1300x24 foam filled tires, solid skid steer tires 12x16 5
If you want to know more products, we have: backhoe tires, filling snowblower tires with foam, foam filled lawn mower tires